Boyd's Dance Hall & Picture Theatre
Entertainment in Stratford
The first hall in Stratford was behind Tully's Hotel. Dances and euchre parties were held there on Saturday nights in the 1920s and 30s which raised money for local groups like the Cairns Boys Band or the Ambulance Brigade. The Southern Cross bus ran a free service from Cairns to the dance and the Hills Dance Band would attract a large crowd with their mix of old-time and modern music. The ladies would bake biscuits and sponge-cakes for supper.
---
Stratford Picture Theatre
The hall was built in the late 1930s. Mrs Boyd held dances twice a week which were well attended, not only by locals but also by soldiers stationed at the staging camp in Redlynch during WWII. Movies were shown once a week and wedding receptions and parties were held here as well. William Smart would play the accordion and Lance Bottrell played the saxophone. Refreshments were served by Mrs Boyd's daughter, Rosie, in the little cafe at the front of the hall.
The hall was damaged in March 1956 by Cyclone Agnes. Ned Diamond re-opened the hall as a Picture Theatre in July 1958. Initially movies were only shown on a Saturday night, but the venue was popular and soon Ned was showing movies four nights a week. People watched the latest releases sitting in canvas deck-chairs. Ned's was the first picture theatre in Cairns to show movies on a Sunday night, but he was only allowed to screen them after 8.00 pm when church services had finished.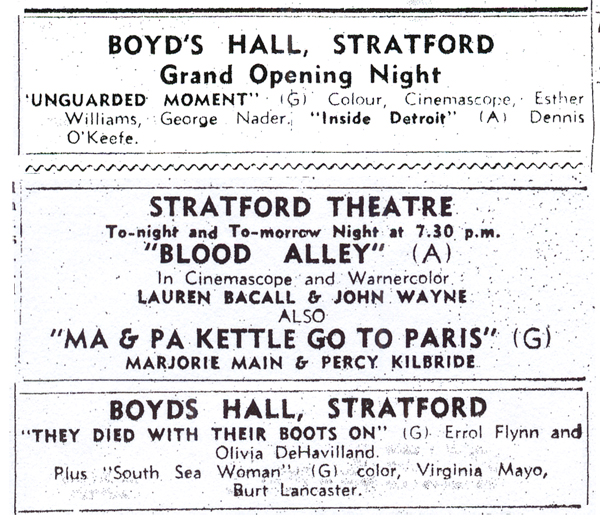 Stratford Trading Post, 1974, Kamerunga Rd
in the old Stratford Picture Theatre.
Photographer: Bruce A Kobbie
Image: Cairns Historical Society (P Album 5)
---
This Stratford Heritage Trail sign was made possible thanks to the generous sponsorship of:
Michael Ferris & Partners Pty Ltd,
21 Kamerunga Road, Stratford.
(07) 4055 2544
www.michalferris.com.au
The Stratford Heritage Trail is an initiative of the
Stratford & Freshwater Community Association