St Augustine's Church
Church services in Stratford
Before Stratford had a church, services were held in the hall behind Tully's pub. Father Thomas Hunt of the Augustinian priests was a friend of Jim and Madge Tully and regularly conducted services there. The hall was also used for the Church of England Bush Brothers and Miss Mackenzie conducted the Presbyterian Sunday School there.
---
St Vincent's Hall
In 1941 the Vicariate of Cooktown became the Diocese of Cairns. The Diocese purchased the land here, including the little hall which used to be Vallely brothers butchers shop. Services were held in the hall before the church was built. On Sundays the priests of the North Cairns Parish would drive out together from the Cathedral to the churches at Mother of Good Counsel, Stratford, Freshwater and Kuranda to give mass.
Vallely's Butchery
Image: Dave Phoenix
In 1904, Bishop Murray transferred the Augustinian administration from Cooktown to Cairns. He was succeeded by Bishop John Alphonsus Heavey, the first Bishop of Cairns and the last Augustinian bishop in Far North Queensland. St Augustine's Church was blessed and opened on 28 October 1951 by Thomas Cahill, Bishop of Cairns. In 1966 it became the parish church of the new Northern Beaches Parish, and Father Butcher came to Stratford as the foundation parish priest. The Catholic Youth Movement painted and furnished St Vincent's Hall so the hall could be used for meetings.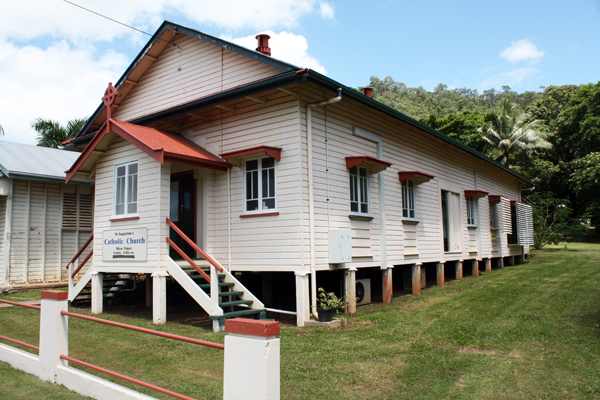 St Augustine's Church
Image: Dave Phoenix
The house to the right of the church was purchased in 1966 as the Presbytery. Initially the house was very dilapidated with an outside toilet, no bathroom and the shower was a garden hose draped over a tree. Conditions improved once the house was restumped and renovated, and Father Butcher was here for fourteen years.
The house was originally owned by an Irishman who once had a disagreement with Father Pat Jones while he was a young priest. One day the Irishman came out of his house wielding an axe and invited Father Jones to "step outside the church property" so he wouldn't have to spill blood on sacred ground. Fortunately Father Jones lived to tell the tale !
There have been four Parish Priests since 1966;
• Reverend John Butcher
• Reverend Michael Bonner
• Reverend Miah McSweeny
• Reverend Neil Muir
---
This Stratford Heritage Trail sign was made possible thanks to the generous support of:
Lou Lou's House of Capelli
The Stratford Heritage Trail is an initiative of the
Stratford & Freshwater Community Association