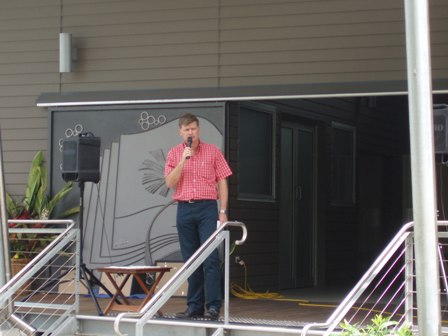 Steve Wettenhall, MP Member for Barron River and Parliamentary Secretary for Tourism, represented the Premier Anna Bligh at the Stratford Heritage Trail Launch, acknowledging the commitment and energy that Dave Phoenix brought to this project, he has astonished everyone by the significant and intriguing stories he has unearthed.
Congratulating the SAFCA Heritage Trail team on their dedication and the many voluntary hours that have contributed to producing a lasting cultural and recreational resource.
It is a great example of what Q150 is all about celebrating Queensland's 150th anniversary.
The Stratford Heritage Trail and website were officially launched at the Stratford Library on Saturday 21 November.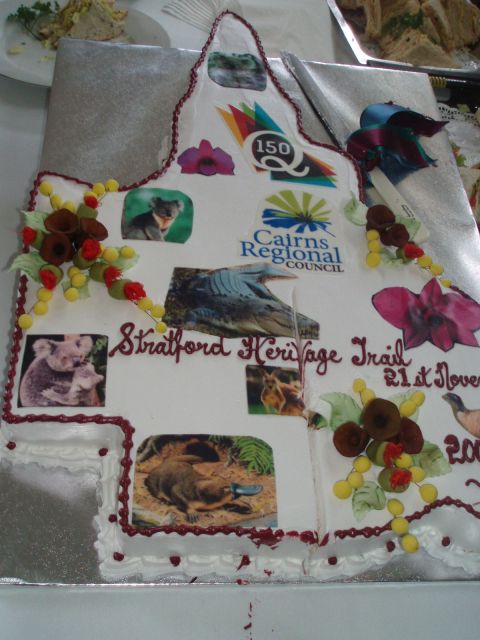 Thank you to all who shared the fun and excitement and to all of the official speakers. To the dedicated volunteers who set up, packed down and provided afternoon tea, thank you. Many thanks to Councillor Cochrane for the wonderful cake, enjoyed by all.
Over 100 people joined SAFCA at the official opening with some travelling from other suburbs to catch up with friends they'd made while living in Stratford. Others came to enjoy sharing memories of their dancing days at Boyd's Dance Hall or just to catch up with neighbours not seen for a while with our busy lifestyles.
Thank you to all who attended and made it such a memorable event.
The first Community Forum for the development of the Stratford History and Heritage Trail was held at the Stratford Bowls Club on Saturday afternoon, 14 March 2009.
We had a good turn out with many people expressing an interest in the project and several people brought old photographs and newspaper articles along with them.
The meeting was opened by Steve Wettenhall, MP for Barron River, who wished us well with our endeavours to record the heritage of the area. Cairns Regional Council Deputy Mayor, Councillor Margaret Cochrane, also addressed the meeting and then spent the afternoon with us scanning photographs and recording local histories.  We then heard from Angela Murphy who has designed the neighbouring Freshwater Heritage Trail. After eighteen months the Freshwater project is nearing completion and Angela had many ideas and suggestions to help us. Dave Phoenix, consulting historian spoke about the value of this project for the community and then displayed maps and photographs outlining some of the heritage sites in the area.
We were kept busy scanning photographs and s before meeting briefly at the end of the afternoon to compare notes and discuss ideas for the next forum.