Constable Michael Dwyer's grave relocation
Exhumation
In 1985 the Queensland Police Department was concerned about the deterioration of Dwyer's original grave site and hoped to have it restored as part of the Bicentennial commemorations. Although this was unsuccessful, a new brass plaque was placed at the grave. However it was apparent that the grave site was under threat from erosion of the river bank. Arrangements were made to have the grave exhumed and the remains moved to a new location.
After extensive discussions the Environmental Protection Agency issued a permit for the project and this site was chosen for the re-burial. It took police, State Emergency Services volunteers, locals, volunteers and James Cook Universiy archaeology students two days to exhume the grave. The site was surveyed with a metal detector and then soil was removed at staged intervals with all soil being sieved and artifacts recorded. Handmade bricks, an intact bottle and stopper and glass fragments from three different types of bottle were found as well as a large number of nails, screws and metal fragments. Fragments of the coffin were found and analysis at James Cook University showed it to be Silky Oak varnished with shellac. No human remains were found, probably due to the acidic soil and/or termite activity. However a 15 carat gold ring with a horse's head was found which was dated between 1855-6.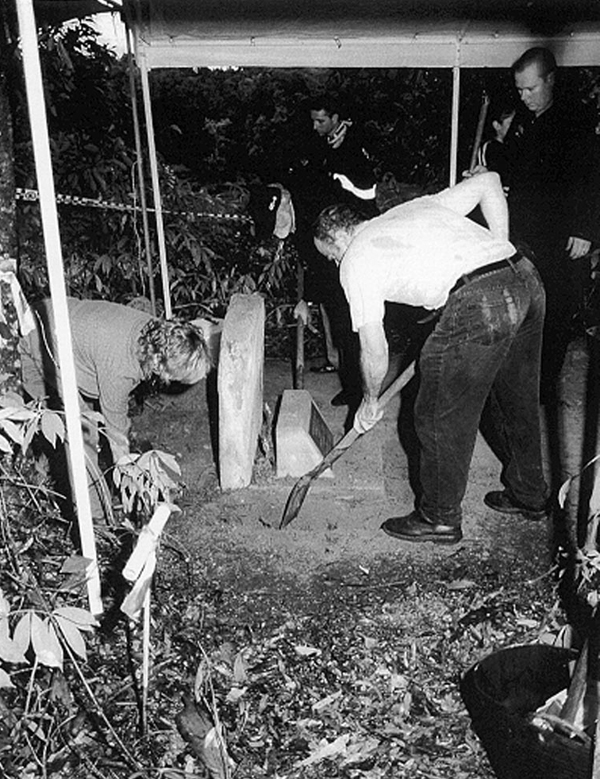 ---
Re-burial
The ring and other artifacts were re-interred on Police National Remembrance Day, 29 September 2003. A service was held at St Monica's Church and then a lone piper escorted the Dwyer's Huon pine coffin from the original grave to Kamerunga Road, where an honour guard and 100 police marched here to the new grave site. The original headstone, which was made in Brisbane in 1877, was also relocated here.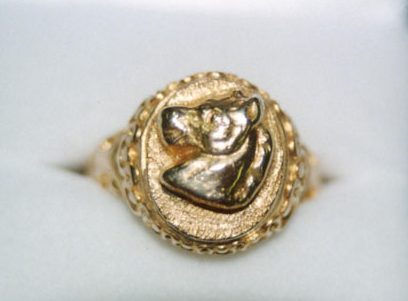 ---
This Stratford Heritage Trail sign was made possible thanks to the generous support of:
Councillor Margaret Cochrane,
Deputy Mayor & Division 8 Councillor,
Cairns Regional Council
and Stratford Residents:
Angela Hoyle
Christine Stucley
Hazel Lees and Les Francis
Cindy Hales and Leigh Schelks
Paul Gadek and Joy Jenkins
Lyn Wallace and Rowan Silva
Betty Neeley
Nina Basei
Norma Wright
The Stratford Heritage Trail is an initiative of the
Stratford & Freshwater Community Association