W W Mason & Acacia Bank
Acacia Bank
In 1882 William Walter Mason was the first person in the area to take up land on the north side of the Barron River. He paid £20 for 160 acres, called his selection Acacia Bank and built a house close to the river bank from split mangrove logs with ti-tree bark for the roof. Newspapers were pasted over the cracks in the walls to keep out the wind. The homestead burnt down in 1898 and the new house was built further back from the river. Mason grew maize, rice, potatoes, bananas and oranges and leased part of his land to Chinese farmers.
In 1915 he grew sugar cane under contract for the Mulgrave Mill and to get his cane across the river, Mason and his sons built a punt large enough to carry his dray and horses. The punt was pulled hand over hand across the Barron on a hemp rope and it took 20 minutes to cross the river. On one occasion the punt capsized and the dray and two horses in harness were lost but two horses broke free and swam ashore as did Mason and the boys.
In 1920 Mason sold Acacia Bank for £10,000 to the Acacia Bank Farming Co which was a consortium of local farmers and Cairns businessmen. In June 1921 the company applied to the Cairns Harbour Board for permission to erect a bridge and borrow their pile driver and gear. The bridge spans were supported braced pairs of piles 20 feet long driven six to ten feet into the river bed. The deck was just wide enough to carry a wagon and tram tracks were laid on the bridge. After each wet season repairs were funded by public appeals and donations until 1927 when the new section was built.
'Road bridges' by Pat Broughton, Cairns Historical Society Bulletin, Number 535, June 2006.

William Walter Mason took up land on the north side of the Barron in 1882. He called the selection Acacia Bank because there were a lot of Acacia trees. In 1886 he married Susan Ann Murphy from Ipswich. They were married by a minister visiting the home of Mayor Louis Severin. Louis Severin (Mayor of Cairns 1886-88, 1891 & 1903, Cairns Municipal Council). Louis Severin was born in France in 1848 and went on to become a builder and merchant and was also the mayor of Cooktown in 1876. Severin also operated brickworks in Cairns. Severin Street, which services the suburbs of Manunda and Parramatta Park, is named after this former mayor who died in Cairns in 1904. Masons had five sons and four daughters at Acacia Bank. No bridges so a trip to Cairns was fifteen miles via the Barron crossing at Kamerunga. We would row across the Barron and get the 10.00am train from Stratford – the only train into cairns in the morning. it was often late but it departed from cairns punctually at 4.00pm back to Stratford.
'Stratford & Freshwater' by D E Griffiths, Cairns Historical Society Bulletin, Number 41, June 1962.
---
Crocodile attack
In 1893 Walter Mason's older brother, James, was running Acacia Bank. In the afternoon of 17 January 1893 James was bathing in the river at a shallow sand bank with his two sons, James aged 10 and George aged 8, when young James was taken by a crocodile. James and several Chinese farmers searched the area but no trace of the boy or crocodile were ever found. James and his family soon left the area, leaving Walter to run the property.
(Cairns Post 1 July 1988, reprint of 21 January 1893 article.)
Since 1876 there have been five or six crocodile attack fatalities on the Barron River.
---
W W Mason Bridge, 1977.
The old wooden bridge at Stratford was replaced with a 176 metre long pre-stressed concrete bridge, 4.1 metres above mean high tide. The bridge was built by John Holland Constructions Pty Ltd for $837,000. Upon completion the Captain Cook Highway was re-aligned away from Stratford for the first time since it was opened in 1933. The new bridge was officially opened on 16 December 1977 by R J Hinze, Minister for Main Roads. On 12 August 1978 it was named the William Walter Mason Bridge by Mulgrave Shire Councillor Ken Alley at a ceremony attended by Mason's son, Dave.
---
W W Mason Bridges, 1988.
The northbound bridge was added in 1988 as part of a $6.5 million project to duplicate the highway to Holloways Beach. Both bridges are now known as the William Walter Mason Bridges.
Cairns Post, 11 April 1988, p.3. 'Work started on new Barron bridge'.
Cairns Post, 15 June 1988, p.3. 'New Barron bridge takes shape'.
Cairns Post, 25 October 1988, p.19. 'Progress on bridgework over Barron River'.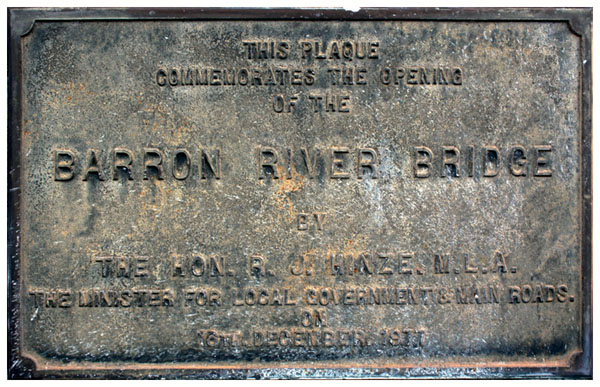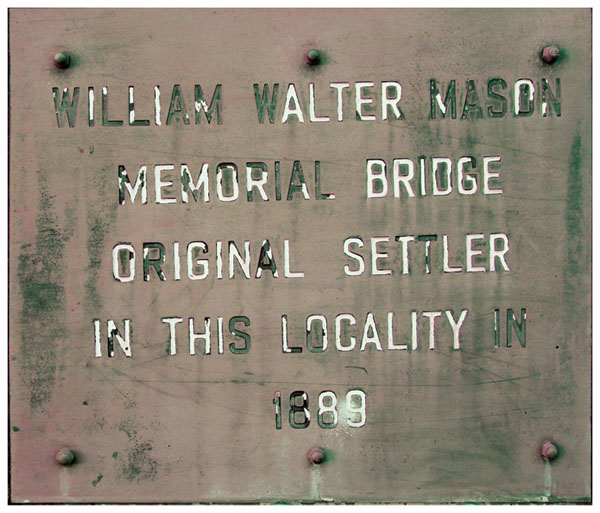 The Stratford Heritage Trail is an initiative of the
Stratford & Freshwater Community Association