Mount Whitfield
The Whitfield Range is an offshoot of the larger Lamb Range, and is separated from it by Freshwater Creek.
Mount Whitfield (364 metres) and Lumley Hill (325 metres) are outliers of this range being north-east of the main range and separated from it by Brinsmead Gap. The range separates Stratford, Freshwater and Redlynch from the northern suburbs of Cairns.

---
Geology
Mount Whitfield (364 metres) and Lumley Hill (325 metres) are outliers of the Whitfield Range which is an offshoot of the larger Lamb Range. The range is predominantly granite, slates, phyllites, quartzite, chert and greywacke and is part of the Hodgkinson Formation, although it shows greater metamorphism than rocks to the west. The rocks are remnants of the coastal ranges which date from the middle Palaeozoic (approximately 400 MYA) when Silurian sediments were uplifted and exposed to form the coastal mountains and tablelands.
---
European naming
George Augustus Elphinstone Dalrymple, leader of the 1873 Queensland North-East Coast Expedition, sailed from Cardwell in the Flying Fish and Coquette. On 16 October 1873 the expedition arrived at Trinity Bay and the following day Dalrymple named Mount Whitfield after Edwin Whitfield, a Cardwell merchant who had assisted in supplying the expedition.
Later, Lumley Hill was named after Charles Lumley Hill (1840-1909), MLA for the seat of Cook 1885-8 and Sub-collector of Customs in Cairns. Lumley Street in Parramatta Park is also named after him.
---
Conservation
In 1884 the 'Cairns Progress Association' lobbied the Queensland government to establish a Botanical Reserve to the north of the town. The 2,000 acre 'Cairns Botanical Gardens Recreation Reserve' was gazetted to cover all the land from the Botanical Gardens to the Barron River, including the land Stratford now occupies.
Today the Botanic Gardens is a separate reserve and the range in front of you is in the Mount Whitfield Range Conservation Park, 300 hectares of rainforest with patches of eucalypt forest and grasslands with cycads. Parts of the park have stands of fish pole bamboo, Phyllostachys aurea, an edible bamboo and native of China which was planted by Chinese settlers.
Cassowaries, Casuarius casuarius, lived on the hills until 1996 when the last surviving bird, a female known as 'Blue Arrow' was attacked by dogs.
---
George Augustus Frederick Elphinstone Dalrymple (1826 – 1876)
Information from: http://www.adb.online.anu.edu.au/biogs/A040009b.htm
Birth: 6 May 1826, Scotland
Death: 22 January 1876, St. Leonards, Sussex, England
Cultural Heritage: Scottish
Occupation: commissioner of crown lands / explorer / Member of Lower House / station manager

George Augustus Frederick Elphinstone Dalrymple (1826-1876), explorer, public servant and politician, was born on 6 May 1826, the tenth son of Lieutenant-Colonel Robert Dalrymple Horn Elphinstone of Aberdeenshire, Scotland, and his wife Graeme, née Hepburn. He was the younger brother of Ernest Dalrymple. He left Scotland in the 1840s and became a coffee planter in Ceylon. He arrived in Australia between 1856 and 1858 and went to the Darling Downs where he was unable to take up land as he had intended. The unoccupied north attracted him and in February 1859 he published in Brisbane Proposals for the Establishment of a New Pastoral Settlement in North Australia. His proposed syndicate soon attracted subscribers and he organized an expedition to explore the Burdekin River watershed (Kennedy district). His party, including Ernest Henry and Philip Sellheim, set out from near Rockhampton in August and reached the site of Bowen.

The Queensland government countermanded the decision to open the new district for settlement in January 1860 and the syndicate's plans to tender for runs were forestalled. In compensation Dalrymple was made commissioner for crown lands in the Kennedy district. In August he went with Lieutenant J. W. Smith in the Spitfire to explore the coast and examine Port Denison as a port of access for the Kennedy. As officer in charge of the proposed settlement of Bowen, Dalrymple then planned the expedition to establish the township and led the overland section. After he arrived Bowen was proclaimed on 11 April 1861. He was soon beset by official duties in a frontier town and by problems of administering the new Land Act, but neglected his mounting clerical tasks for more adventurous field-work. When Dalrymple went south on sick leave he fell out with his superior, Augustus Gregory. In 1862 when several land commissioners, including Dalrymple, were to be replaced by professional surveyors, he resigned rather than accept alternative posts offered him in Bowen.

Early next year with Walter Scott, his brother Arthur and (Sir) Robert Herbert as 'sleeping partner', Dalrymple formed Scott Bros Dalrymple & Co., took up on the Valley of Lagoons run on the Upper Burdekin River, and became its manager. He brought in his large collection of books and pictures but was often absent from the station. At Rockhampton he was drawn into a minor scandal involving a friend's wife; while vindicating his own and his friend's honour Dalrymple assaulted the police magistrate, John Jardine, and was fined £500. In 1864 Dalrymple and Arthur Scott established Cardwell on Rockingham Bay as a port for inland stations north of Bowen. The expedition, initiated by the company but with official backing, included James Morrill and John Dallachy. Dalrymple led a small party inland to the Valley of Lagoons and returned, hacking out a dray route to the coast.

Dalrymple sold his interests in the company to go into politics. In March 1865 he was elected the first member for Kennedy in the Legislative Assembly. He was colonial secretary in Herbert's ministry from July to August 1866 but held no other office, although as a supporter of the Northern Separation League and its president in 1866 he was favoured as premier for the proposed new colony. He did not contest Kennedy in 1867 but went to Britain to recover his health. He returned to Queensland in 1869 and with A. J. Bogle took up Oxford Downs on the Upper Burdekin. The venture failed, as did his imported traction engine which proved impracticable on northern roads. Insolvent, he was lucky to get a government post as assistant gold commissioner on the Gilbert diggings in October 1871. Next year he had charge of the diggings and was also sent to find a route for a telegraph over the Sea View Range near Cardwell. In September 1873 he led an official exploration of the coast north of Cardwell. They reached the Endeavour River in October, just before Cooktown sprang up as the port for the Palmer goldfields. They returned to Cardwell in December and Dalrymple, sick with fever, went to Brisbane. He hoped to explore the coast north of Cooktown but in 1874 was given charge of the government settlement at Somerset on Cape York. He sailed for Somerset in May but soon after he arrived was incapacitated by fever and a stroke. He was taken south by mail steamer and granted leave in September. After a summer in Scotland he went to St Leonards, Sussex, where he died, unmarried, on 22 January 1876.

Dalrymple had been elected a fellow of the Royal Geographical Society in November 1867. He was a successful explorer, a dashing leader, restless, impatient of official parsimony and red tape. Through his policy of vigilance and restraint he seldom had trouble with the Aboriginals on his expeditions. Dalrymple's appreciation of natural beauty is amply expressed in his exploration reports. Many features of northern Queensland commemorate his name and many more were named by him.

Bibliography:
G C Bolton, A Thousand Miles Away (Brisbane, 1963);
J. Farnfield, Frontiersman (Melbourne, 1968);
G. C. Bolton, 'The Valley of Lagoons: A Study in Exile', Business Archives and History, vol 4, no 2, Aug 1964, pp 99-116.
C. G. Austin, Clem Lack, 'Dalrymple, George Augustus Frederick Elphinstone (1826 – 1876)', Australian Dictionary of Biography, Volume 4, Melbourne University Press, 1972, pp 9-10.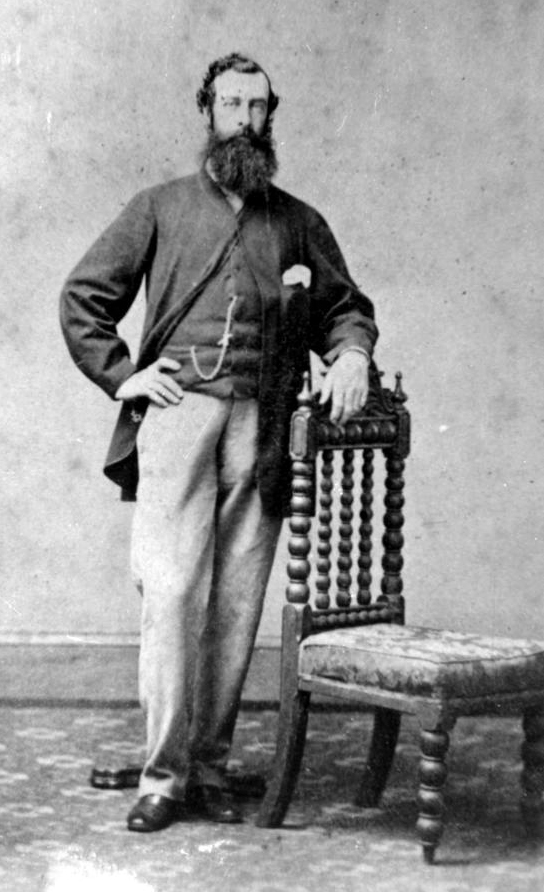 George Augustus Frederick Elphinstone Dalrymple (1826 – 1876)
---
Charles Lumley Hill (1840 – 1909)
Information from: http://www.adb.online.anu.edu.au/biogs/A040445b.htm
Birth: 1840, Tickhill Castle, Yorkshire, England
Death: 28 October 1909, Esk, Queensland, Australia
Cultural Heritage: English
Occupation: cattle breeder / grazier (unspecified) / Member of Lower House

Charles Lumley Hill (1840-1909), grazier, parliamentarian and cattle-breeder, was born at Tickhill Castle, Yorkshire, England, son of Charles John Hill, colonel of Hussars, and his wife Lady Frances Charlotte Arabella, daughter of Frederick Lumley and granddaughter of the fourth Earl of Scarbrough. Educated at Rossall School, he entered Pembroke College, Oxford, in October 1860 but did not take a degree. He migrated to South Australia in 1863 and had some experience on a station near Port Augusta. In 1864 he moved to Queensland where he soon became manager of Northampton Downs. In 1865 with his Oxford friends, William Holberton and William Thomas Allen, he bought sheep, drove them to the Barcoo River, took up part of Isis Downs and later acquired the runs of Westlands, Avington and Thornleigh. They had much trouble with the Aboriginals and Hill was prominent in measures to suppress them. The stations were sold when his partners returned to England.

In 1878 Hill was returned unopposed to the Legislative Assembly for the Gregory district where he had bought a share in Rosebrook station. At first he supported (Sir) Arthur Palmer and (Sir) Thomas McIlwraith but, disappointed at not receiving a portfolio, he joined Boyd Morehead and Oscar de Satgé in forming a cave within the government ranks. He was further alienated in 1880 when Morehead joined the ministry. McIlwraith's proposal for a transcontinental land-grant railway made Hill and other western graziers fearful of their properties and he strongly opposed the project in the press and public meetings. In 1882 he sold his properties, resigned his seat and sailed for England.

In 1883 Hill returned to Queensland and failed in his first attempt to win the Cook seat. He won it at a by-election in 1885 and was an independent supporter of (Sir) Samuel Griffith. In 1886 he was a representative of the assembly on the joint committee to discuss the deadlock arising from the Legislative Council's opposition to a money bill. Contemporary press comment suggests that he was rather too aristocratic to be popular. In 1888 he returned to pastoral pursuits and became a cattle-breeder. At Bellevue, near Esk, he built up a fine Hereford stud. On 24 July 1904 he had married Edith Maud Taylor, a widowed daughter of George Harris and sister-in-law of Richard Gardiner Casey. Aged 69 Hill died of malaria at Bellevue on 28 October 1909. His widow managed his estates and won repute for her business ability and as a grazier and cattle-breeder; she died on 6 July 1925 at Southport and was buried in Toowong cemetery.

Bibliography:
Boomerang (Brisbane), 16 Feb 1889;
Pastoral Review, 15 Aug 1906;
Telegraph (Brisbane), 7 July 1925.
A. A. Morrison, 'Hill, Charles Lumley (1840 – 1909)', Australian Dictionary of Biography, Volume 4, Melbourne University Press, 1972.
---
This Stratford Heritage Trail sign was made possible thanks to the generous sponsorship of:
A S & M A Marton,
Consulting Geologists,
Stratford.
The Stratford Heritage Trail is an initiative of the
Stratford & Freshwater Community Association