The Cairns Range Railway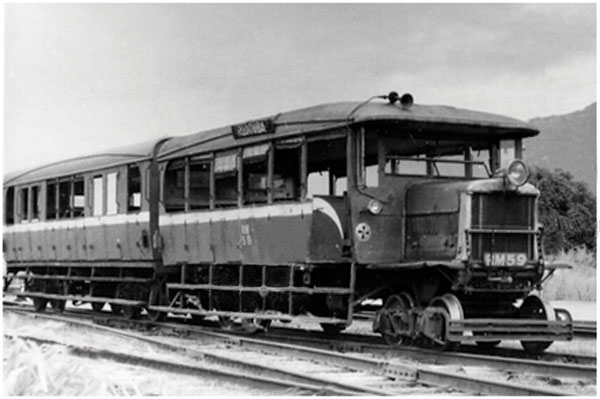 Surveying the route
Tin was discovered in Herberton in April 1880 and mining commenced in May 1880. Several new pack-tracks were established from Trinity Bay up the range to the new mining town and in January 1882 Frank Stubley, Member for Herberton, promised his electorate that they would have a railway.
In April 1882 John Murtagh Macrossan (1833-1891), Minister for Works, announced that Christie Palmerston (1850?-1897) had been commissioned to survey a route for a railway from Herberton to the coast. Palmerston explored the coastal ranges from Port Douglas to Bellenden Ker. He camped on the Barron on 11 June 1882 and commented on Smith's Track,
Bill Smith's track is no track at all; it is not fit for a wallaby.
On entering the Barron Gorge he wrote;
I do not know what height the mountains are where the river breaks through, nor do I care, for it would cost a mint of money to make a railway the few miles I have travelled this morning, and when made it would be dangerous, for the mountains are so precipitous they would overhang the line and there would be a great risk of landslips.
and at Stoney Creek gorge he wrote;
I do not see the slightest chance of getting a railway here, even if money were unlimited, it would require great engineering skill.
On 11 May 1883 surveyor George William Monk was appointed to survey potential routes for a railway to Cairns from the hinterland. (Monk Street, Manunda is named after him). He submitted his report in March 1884 and on 21 April 1884, construction engineer Willoughby Hannam (1838-1893) (Hannam Street, Westcourt named after him), reported that the Barron valley route was the most favourable, beating competing claims from Port Douglas and Geraldton (Innisfail). Monk and Mr O L Amos (Amos Close, Redlynch named after him) completed the plans and they were approved by Cabinet on 10 September 1885. These plans had the railway reaching the Barron River at Redlynch via a tunnel at Brinsmead Gap, by-passing the area around Stratford altogether. However before the plans were passed by the Upper House on 30 October 1885, they were amended to take the railway west of Lily Creek, along Little Street, through what is now Centenary Lakes and around the east end of Mount Whitfield (Jones p.202).
In December 1885 Hannam approved tenders from Cochrane and Nixon to clear two miles of line. Tenders were called for the clearing of an additional half-mile of line beyond Cochrane's work.
Tenders were called for in January 1886 for sleepers in lots of 1,000. 900 tons of rail line for the first section to Redlynch arrived from Cooktown 'presumably left over from the Cooktown-Laura railway' (Jones p.274).
Tenders for the construction of the first section of the line were called for in the Government Gazette of 11 February 1886 (CRC Botanic Gardens file). P C Smith & Co were awarded the contract to construct the first section of the line; eight and a quarter miles from Cairns to Redlynch at a cost of £20,000. Johnston (Cairns Historical Society Bulletin No. 84) claims that the labour turn over was 'astronomical' and early settlers claim many fever victims lie buried along the side of the track from Saltwater Creek to Suicide Bend. McBride & Co of Brisbane took over the contract from P C Smith & Co in November 1886, but they also failed to complete the contract and the first section of the line was completed under Government contract.
A station was built at Three-Mile (Edge Hill station south east of the hill at the three-mile point situated near where No.1 tank sits today (Memo to the Town Clerk 29 July 1969).
---
Building the Railway
Premier Samuel Walker Griffith (1845-1920) turned the first sod for the new railway at Shields Street on 10 May 1886.
The first section was completed on 8 October 1887, ten miles from Cairns to Jungara. The government declared 26 September 1887 a public holiday to celebrate the completion of the first section. 200 people rode the train to the Eight Mile before walking to the southern end of the first tunnel where Hannam provided refreshments and speeches were made.
In November 1887 passenger trains ran to Eight Mile, which was renamed Redlynch.
In April 1889 the Hon Sir Hugh Muir Nelson (1833-1906), Minister for Railways inspected the line with Horace Tozer, MLA (1844-1916). Lily Bank Station consisted of a shelter shed.
The railway reached Mareeba in 1893, Atherton 1903, Tumoilin 1911, Ravenshoe 1916. The railway was connected to the rest of the Queensland rail system in 1923 when the Cairns-Brisbane railway was completed.
---
My parents, George Ward and Mrs Ward, came to Cairns in 1885 and lived in a tent at Edge Hill to work on the railway. George was employed in getting the sleepers for the line. Le Grand had a bullock team and used to snig the logs for the sleepers. We then moved to Stratford as the line progressed and then the No. 10 Tunnel, before finally moving to Myola.
"Early experiences of the Cairns-Kuranda railway" by Mrs T Dillon Snr, Cairns Historical Society Bulletin, Number 35, November 1961.
---
Stations on the line
Magazine Siding – 4 miles 25 chains from Cairns.
Magazine Siding 4 miles, 25 chains from Cairns. In 1900, £2,750 was voted for the construction of the Powder Magazine and a railway siding at Stratford. The siding was 4 miles from the terminus. In 1942 Magazine Siding was reported as being used by J M Johnston's timber mill. In 1959 the siding was closed.
Johnston's Siding – 4 miles 32 chains from Cairns.
Johnston's Siding was 4 miles 32 chains from the Cairns terminus. It was opened in 1923 and a shelter shed built here which was destroyed by a cyclone in 1956. The siding closed in 1963 and the rail lines were lifted in the 1990s.
Stratford Siding – 5 miles from Cairns.
When the railway opened in 1888, Stratford was classed as an isolated stopping place with no buildings or facilities provided. A shelter shed was put in near Boden's Stratford Hotel in 1889 and the following year a shelter shed was erected outside Draper's Lily Bank home. In 1892 both of these were closed down and the Stratford Siding built at the end of what is now Clacherty Street.
On 16 February 1931 the position of station mistress (Ethel Johnston) was withdrawn. A loading bank and shelter shed were built in 1950. The railmotor service was an important link to Cairns, the mail came out by railmotor and the children took the railmotor to school each day. The number of passengers travelling from Stratford Siding was;
1900-3,069.
1910-3,975.
1920-2,946.
1930-1,619.
1940-2,005.
1950-10,644.
1960-2,689.
Lily Bank Station – 6 miles from Cairns.
When the railway opened in 1888, Lily Bank (6 miles from the terminus) was classed as a "loading bank with no siding." A roadside stopping place was made later that year and loading bank constructed. A shelter shed was constructed in 1890 and on 1 April 1892 Lily Bank stopping place was closed.
Keeble Siding – 6+ miles from Cairns.
There was a siding called Keeble Siding near Crawford's Poultry Farm.
Richmond (Freshwater) Siding – 7 miles from Cairns.
Richmond Siding, 7 miles from Cairns was renamed Freshwater Siding in January 1890.
---
---
Kuranda Scenic Rail & Savannahlander
Today the rail line is used by the tourist train from Cairns and Freshwater Connection to Kuranda and also the Savannahlander from Cairns to Forsyth.
The Kuranda Scenic Railway
---
This Stratford Heritage Trail sign was made possible thanks to the generous support of:
Marsh Butcheries,
1 Kamerunga Road, Stratford.
(07) 4055 2233
The Savannahlander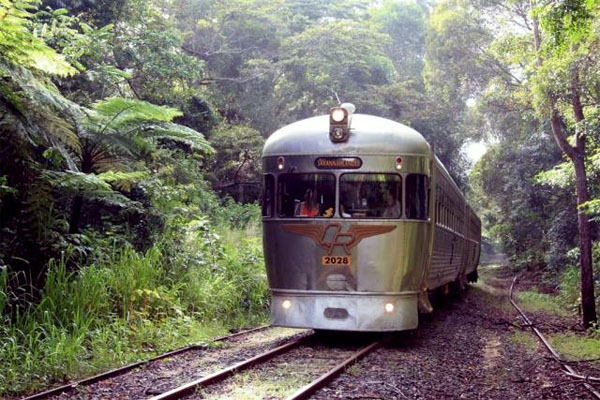 The Stratford Heritage Trail is an initiative of the
Stratford & Freshwater Community Association