Barron River tourism
Popular pastime
Going on a picnic party was a popular way to spend leisure time and often the whole town would go for a picnic on a Saturday or Sunday afternoon. One of the popular picnic spots was Barron Beach and in 1929 Ike Askew started regular trips down the Barron from Stratford in his 30 foot Bollinder pleasure launch, the MV Stratford.
The 1933 Tourist Guide Book described the trip;
Catch the autobus or railmotor out of Cairns. The road runs by canefields and fruit gardens; past the aerodrome site to Stratford, a small settlement with a timber mill. Leaving the railmotor or 'bus at Stratford (opposite Tully's Hotel) numbers of fresh-air seekers take the launch down the Barron River to the beach.

It is a short trip and very beautiful. The launch grounds on a spot favored for many years now by picnickers. It is one of the most frequented spots by week-end parties and is set in quiet, picturesque surroundings. Lunch is had in the shade of young coconut trees. There is no provision except one of two privately owned huts for week-ending. In any case the launch will be in readiness to take you upstream in time to catch your rail-motor.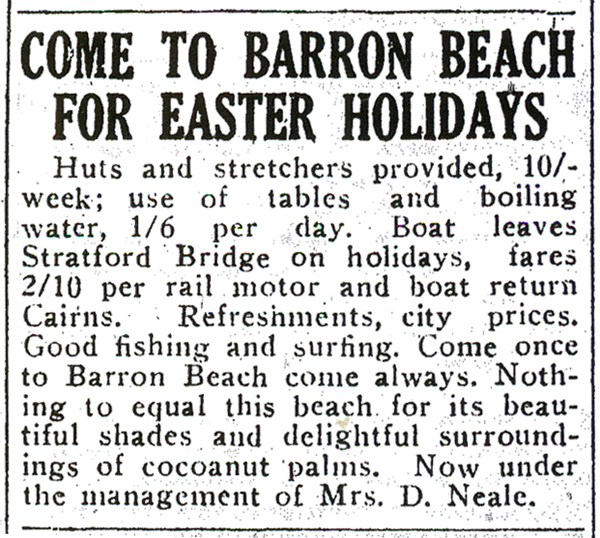 ---
This Stratford Heritage Trail sign was made possible thanks to the generous sponsorship of:
The following Stratford residents;
Angela Hoyle
Christine Stucley
Hazel Lees and Les Francis
Cindy Hales and Leigh Schelks
Paul Gadek and Joy Jenkins
Lyn Wallace and Rowan Silva
Betty Neeley
Nina Basei
Norma Wright
The Stratford Heritage Trail is an initiative of the
Stratford & Freshwater Community Association