USAT General MacArthur, 1942
Boats carrying timber
Johnston's Timber Mill owned a number of boats that were used for bringing timber down the coast from Daintree. In 1942 Captain Alf Hansen designed a boat, 100 feet long with a beam of 24 feet, made of local timber and capable of carrying 200 tons from the Bloomfield River to the Barron. A slipway and floating dock were built here for the construction of the boat.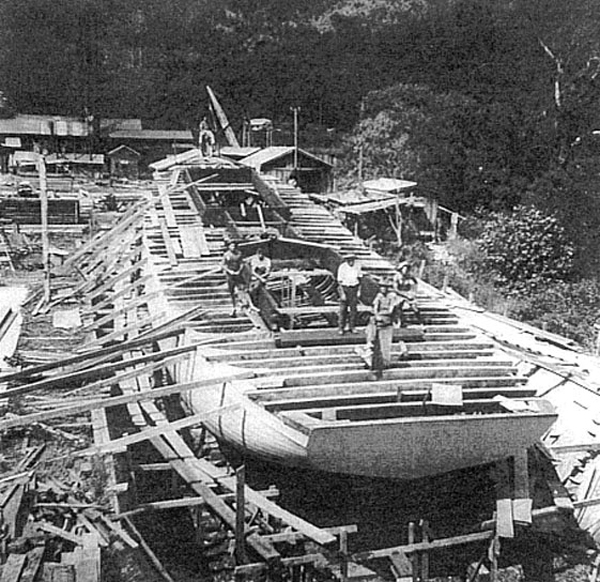 USAT General McArthur under construction at J M Johnston's Stratford slipway.
Image: Cairns Historical Society (B3203, Album 30 p.8)
---
US Small Ships Company
Before the boat was completed the US Army purchased it for their Small Ships Company. While the boat was on the slipway it was guarded by US Military Police and workers at the mill were required to carry security passes. The original design was modified by Jim Smart to minimise the amount of glass and therefore reduce glare at sea. The boat was launched on 8 August 1942 as the United States Army Transport USAT General MacArthur.
USAT MacArthur, MV Geo Bass, MV Melbidir & TS Triton
The boat, crewed by Australian civilian merchant mariners wearing US uniforms, spent the rest of WWII carrying supplies and personnel from Queensland to New Guinea. After the war the boat spent some time in Tasmania as the MV Geo Bass, before returning to Cairns in the 1950s as the MV Melbidir. In 1973 the boat was donated to the Navy League of Australia as the TS Triton. In 1991 the boat was decommissioned and the hull slowly rotted away on the banks of Admiralty Island.

USAT MacArthur at Stratford.
Image: Australian War Memorial Collection.
---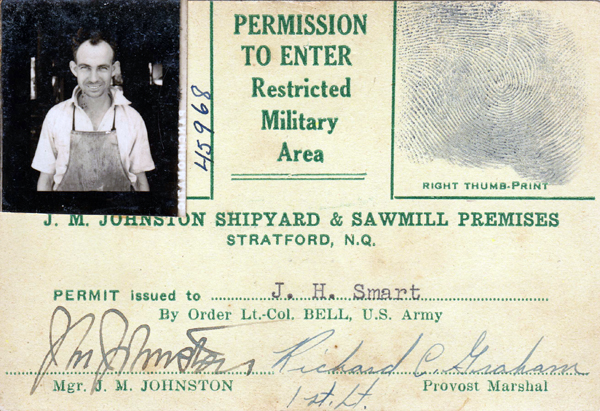 The Stratford Heritage Trail is an initiative of the
Stratford & Freshwater Community Association